"Everyone in the office is so pleasant and really good at their chosen profession. I would highly recommend Dr. Prast." LS

"Was very impressed with the Staff and Dr Prast … I have severe dental anxiety and haven't been to a Dentist in 15 years … Dr Prast was very thoughtful and thorough in her explanation of what treatment I needed and assured me she would do everything she could to make my visits as painless as possible… Will be back to the Office" PS

Sincere thanks for the warm welcome to your practice! Dr. Prast, Connie, Lisa T., Wendy and Danielle, your kindness was appreciated and certainly eased any stress I may have felt as I transitioned to a new health care provider. Looking forward to seeing you all again
The nicest and most professional people! They are so helpful, blessed to have them! CK
Always a pleasant experience. Staff is extremely personable and friendly. PE
Sydney did a fantastic job cleaning my teeth. She was gentle, personable and knowledgeable. KS

We always feel very welcome here and everybody is so kind :) LB
The friendly warm professional interactions I've had has made coming for dental exams less stressful and more enjoyable. Thank you. BM.
Very professional and a pleasant overall experience. The staff is great and were extremely diligent on staying safe with their covid protocols. Definitely recommend. RG.

I love this dentist office and it's the people here that make it the best place I've ever gone for dental care. Every single person that works here is so kind, caring, and friendly. My elderly parents go here now, too, and the staff is so patient with them. I honestly can't say enough good things about Prast Family Dental! BB.
I am very pleased with Dr. Prast and her friendly staff. Dr. Prast takes the time to thoroughly explain the procedures and gives many options. I find her very competent. The office is upbeat and friendly also. RS.
Friendly and experienced staff with great procedures in place during Covid times" EW.
Great staff!!! They get you in and out of there quickly and they are always very professional. Great job. MP.
"Just Perfect as always" CW.
"Very Good! I was treated well" KB.
Patti does an excellent cleaning and the rest of the staff is professional and courteous" PT.

"Great People and Great Service!" GT

"Dr Prast is one of the best Dentists I have been to! She is friendly and so gentle. The staff is amazing and makes you feel so at ease. I am a nervous dental patient, but Dr. Prast's kindness and gentleness make me feel so relaxed. You must go to this office!!" JR

"What a pleasant experience. I have always had a fear of dentists since my first visit as a child, but Dr. Prast and the team she has assembled has now removed that burden from me. Professional, friendly. Courteous and very gentle. Thank you!" Tom

A thank you card we received:
"To all the ladies who took care of me... I thank you! You all possess a good chair side manner. That made it a more pleasant ordeal. Once again, I thank you! Wendy and Dr. Prast: you two were really a pleasant team to take care of me. Just want you to know that my tooth feels great and I have no problems." Walter
---
Other kind words from our patients....
"The people at this dental office were a God send. Everyone there was beyond friendly, respectful and understood my fear of seeing a dentist. They shook my fear of seeing a dentist and I will be happily going back to them to get my smile healthy again. No more crying in the dentist chair for me!' DE.
---
"Nothing like a hometown dentist where you feel like part of the family. After getting my teeth cleaned, I decided to stay and read the back of the paper to catch up on the news. It was great. I was given a cup of coffee, a cookie and I sat back and relaxed. The office staff is great and the dental care is wonderful as well." PO.
---
"When I was a little girl, our dentist was an ex-army dentist. He wasn't the kindest or the most considerate man - it was definitely not gentle dentistry. Until I came to this office, it was always a very upsetting thing to go to the dentist - cold sweats, nervous hands and fear were the norm. Coming here now is a pleasant, happy experience. The people are kind and thoughtful and the doctor is extremely caring and gentle. I highly recommend this practice to everyone I speak to." JK.
---
"Thank you for pulling my two baby teeth. Thank you for the ring and the birthstone necklace from the special box! You're the best!" Sincerely, Alex B. age 6
---
"I have been going to this office for many years for my dental needs - from a simple cleaning to crowns and everything in between. They have always been professional, courteous and proficient in my care. The front desk people are friendly and helpful. I really liked the way each step was explained when I had a crown done, always stopping to see if I was okay. Can you really have fun at the dentist? I do!" CH.
---
"I like this office because everyone here is so nice and friendly and helpful. The office is so nice looking and clean
---
I've never been to an office where the staff treats you like family, genuinely taking an interest in you and your family. I wouldn't consider going anywhere else! LT.
"We would like to say Thank You for the very generous donation of trick-or-treat bags for every student! Wonderful community members make Pinckney a great place to live!" Farley Hill Student Newsletter
---
"Thank you for taking care of my teeth. They really do appreciate it. Me too!!" BR.
---
"I have been a dental patient for over 20 years and they have a super team. I'm blessed to have them!" Dan
---
Hannah and Holly are still excited about getting the sugar bugs off of their teeth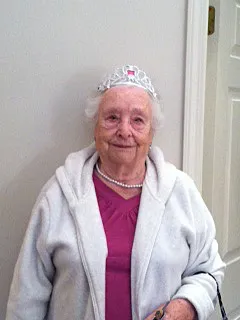 We cater to princesses of all ages! :)
"Our patients are often so comfortable in our office, they fall asleep either in the dental chair themselves or while waiting for their moms (like the picture beside)". Connie